They and We, 7th edition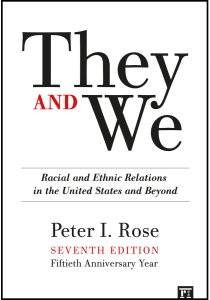 The first edition of They and We (Random House, 1964) appeared shortly after the March on Washington where Martin Luther King Jr. gave his memorable "I Have a Dream" speech. It was published just before the Voting Rights Act of 1965 was passed by Congress. The book, read by tens of thousands, has been updated and expanded six times, each edition maintaining the original intention of the author to provide grounding in the sociological study of intergroup relations, examining prejudice, discrimination, minority status, and other core concepts, in straightforward, jargon-free prose, while tracking social, economic, political, and legal developments from colonial days.
The new, 7th (50th anniversary) edition of They and We continues the tradition, depicting recent demographic changes and persisting patterns (such as the "leapfrog" phenomenon, where, as in the past, many African Americans are left behind as newer groups move in, up, and over). It also covers new developments, including the rise of Islamophobia in the wake of 9/11. An entirely new chapter compares perspectives in the United States with situations overseas, particularly with regard to nativist and nationalist movements and the resurgence of xenophobia in this society and in many others.
Peter is the author of eight books—They and We, The Subject is Race, Strangers in Their Midst, Mainstream and Margins, Tempest-Tost, Guest Appearances and Other Travels in Time and Space, With Few Reservations, and the recently published Postmonitions of a Peripatetic Professor. He is co-author of several sociology texts and editor of many other books, including The Ghetto and Beyond, Americans from Africa, The Study of Society, Seeing Ourselves, Nation of Nations, Socialization and the Life Cycle, Views from Abroad, Working with Refugees, Professorial Passions, and The Dispossessed: An Anatomy of Exile
Published by:
Paradigm Press
5589 Arapahoe Avenue, Suite 206A
Boulder, CO  80303
303-245-9054
www.paradigmpublishers.com
Pub date:  June 30, 2014
334 pp, PB, $49.95, 6 x 9
ISBN 978-1612056609

Praise for They and We:
"A thoroughgoing sociological treatment of materials not often dealt with so intelligently and sensitively . . . especially valuable as supplementary reading in college courses giving students a concise and useful overview of the sociology of race and ethnic relations in the United States."
—Annals of the American Academy of Political and Social Science
"A well written, concise,  wonderfully brief textbook, leaving the instructor with a bonus of time for additional reading assignments in journals, readers, and monographs.
—American Sociological Review
"Well organized and very readable . . . They and We should fit smoothly, with supplementary reading materials, into undergraduate courses on race and ethnic relations."
—American Journal of Sociology
"Reading Peter Rose's They and We in the aftermath of the Paris riots makes one realize, despite some continuing disparities, how far America has progressed toward a multicultural society and how far Europeans still have to go. They and We should be translated into every language in Europe and done so with all due speed. . . . The revised They and We contains forty years of accumulated wisdom by one of America's most astute and sensitive observers of intergroup and international relations."
—Timothy W. Ryback, Historian and Director, Salzburg Seminar
"They and We is a unique resource: not a standard textbook but an extended, erudite, and deeply engaging essay, itself evolving over the tumultuous decades that it covers with a historian's keen grasp of changing contexts, a novelist's eye for detail, and the sociological imagination to connect biography and history within social structures. Updated and expanded, Peter I. Rose's classic book is an informed and illuminating meditation on some of the most intractable issues of our age: the persistence of 'color lines,' the meaning of 'race,' the rebirth of nativism in a new era of mass immigration, the construction and deconstruction of ethnic identities, and the forces that 'assimilate' or divide 'them' and 'us' in American society."
—Rubén G. Rumbaut, Co-Author of Immigrant America: A Portrait and Legacies
"I read They and We as an undergraduate, while I was turning myself from a physics major into a playwright. I was in pursuit of American character and the drama of our lives. I didn't yet know how to break through the limits of my skin or move beyond the range of my partial vision. They and We revealed to me what we couldn't see in what we always see. Artists like sociologists should offer us the ability to imagine ourselves. As I explore American character on screen, stage, and now in novels, I always feel connected to Peter Rose's wise and elegant masterpiece."
—Andrea Hairston, author of Mindscape
"There are some aspects of the American Experience, past and present, so fundamental that social literacy demands responsible persons have knowledge of them. Professor Rose's comprehensive study of our society's character provides a compelling introduction for the first-time student and a masterful refresher for the experienced reader."
—Stephen J. Reno, Chancellor,  University System of New Hampshire
"Peter Rose taught me to think about US history and society in terms of "the hyphenated American." In this new and updated edition of They and We, he offers not only an insightful analysis of the debate about ethnicity and race in the United States, he also makes an astute assessment of these issues that remain at the center of contemporary debate."
—Ruud Janssens, Professor of American Studies, University of Amsterdam
"Peter Rose's clear-eyed, meticulous study of 'they' and 'we' comes to us in its sixth edition at this crucial time when we Americans are sorely in need of self-examination if we are to, finally, dismantle this persistent 'culture of inequality.'"
—Andy Rowan, Lecturer, English Department, Bronx Community College, CUNY