Postmonitions of a Peripatetic Professor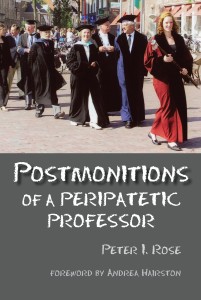 Postmonitions of a Peripatetic Professor describes the "lucky journey" of Peter Rose, an octogenarian sociologist, ethnographer, writer, teacher and world traveler. In the pages of this colorful memoir, the author comments on six decades of academic life in the U.S. and abroad, his work as an editor and consultant, his excursions as a travel journalist, and some intimate portraits of those he met along the way.
With a foreword by the author's former Smith College student, playwright and novelist Andrea Hairston, the narrative is enriched by occasional extracts from his earlier writings in essays, stories, reviews, poems, and books, including They and We, The Subject is Race, The Ghetto and Beyond, Strangers in Their Midst, Americans from Africa, Mainstream and Margins, Tempest-Tost, Guest Appearances, and With Few Reservations.
Published by:
Levellers Press
71 South Pleasant Street
Amherst, MA 01002
413-992-7408
www.levellerspress.com
Pub date: Pioneer Valley, Massachusetts: October 1, 2013
Pub date: National, December 1, 2013
Memoir, 300 pp, PB, $19.95, 6 x 9
ISBN 978-1-937146-34-4
On Postmonitions of a Peripatetic Professor
A Rare Bird.  Amazon review. 5.0 out of 5 stars.
Peter Rose is thar rare bird in the academic world. One who can write as well or better than most professional writers and who is superb in his field of speialization, refugees. His topic is right on in todays' unsettling times, just as it was when he first took it up in the aftermath of Europe's wrenching wars. As a peripatetic professor, he brings to his subject a warm personal view engendered by his 70 years with Hedy Rose, a refugee from Holland and the welcoming childhood home his social worker parents filled with a turnover of refugees.
–Pamela Wood, Oaxaca, Mexico and Standish, Maine (August 31, 2016)
An academic and a personal life story,  Amazon review, 5.0 out of 5 stars
"This book provides great insight into how an individual dedicated to his profession, teaching, can influence education, people and global change. Peter Rose does this by skillfully weaving his lifetime, professional and family experiences into this beautifully written book levitra genérico india. I highly recommend this book!"
—Anthony J. De Carlo (August 7, 2014)
Postmonitions, Daily Hampshire Gazette  
Retired Smith College sociology professor Peter Rose goes for a bit of alliteration in the title of this memoir, published by Levellers Press of Amherst, with the key words being 'peripatetic" and 'postmonitions.'" The first seems an apt choice to describe Rose's travel and work in many other countries — Great Britain, Australia, Japan, Thailand, to name a few — while the second is his own invention.  As he writes, 'If premonitions are things … that we anticipate, I think of postmonitions as those ideas, acts and events that we look back upon. They are at once both cognitive and affective — not just visualized memories but matters we can still feel.'
"… Rose, 80, describes his overall experience as 'a lucky journey,' most of which he's made with his wife, Hedy.  He also frames his experiences within the major events of the time, from the civil rights movement and Vietnam War of the 1960s to the terror attacks of September 2001….While this book focuses more on his travel and work as an academic, researcher and consultant, Rose, who retired from Smith in the early 2000s, weaves in extracts from many of his past writings to put the new book in perspective." And he says there's more exploration to come. Commenting on a trip he and Hedy took last year to southeastern Europe as part of an academic seminar and then private travel, he writes of his plan to return to Turkey: 'And we will [return], for though we move a bit more slowly these days, we intend to keep traveling and keep learning about different cultures and the characters who support them.'"
–Steve Pfarrer, Daily Hampshire Gazette
OTHER COMMENTS
"These 'reflections and ruminations' tap into some of the highlights of the life of a strikingly accomplished academic, an intellectual who comes down only for refueling.  A distinguished sociologist, Peter Rose is a traveler infected with relentless energy and curiosity. This sprightly book teems with people and places that have mattered to him."
—Stephen J. Whitfield, Professor of American Studies, Brandeis University
"A riveting and original autobiography that reads like an intellectual and political Bildungsroman. Peter Rose teaches us how powerful learning becomes when one has mastered the skill to pass it all along in splendidly written prose."
—Saverio Giovacchini,  Professor of History, University of Maryland
"Whether you are interested in sociology, history, culture or travel (or all of the above), Peter Rose's Postmonitions will engage and intrigue you from the first page. I learned new things about my long-time mentor's life, reminisced about times we shared, and was spurred to reflection about the social issues of our time. His book made me realize, once again, what I already knew – that the depth and breadth of his scholarship, teaching, writing and humanity has made our world a better place."
 —Margaret Dyer-Chamberlain, Smith '80; Associate Provost, Stanford University
"This memoir can be understood and appreciated on multiple levels as Peter Rose reveals not only his intellectual and professional journey but also his more deeply personal reactions to the people, places and events encountered across time.   An expert eye-witness and student of "true comity, where peoples meet," Rose enables us to draw inspiration and insights from the stops and starts, ups and downs of that long journey to intercultural understanding."
 —Ruth J. Simmons, Professor of Comparative Literature and Africana Studies at Brown University; former president of Smith College; former President of Brown University