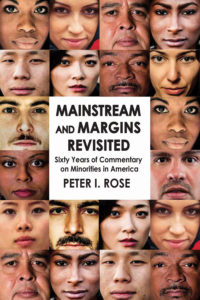 Transaction Publishers
10 Corporate Place South
Piscataway, New Jersey 08854
Covent Garden
London WC2E 8LU
United Kingdom
US: 732-445-1245
http://www.transactionpub.com
Publication Date: December 22, 2016
Paperback, 357 pages (also available as a Google eBook)
$44.95
ISBN 978-1-4128-6429-9

Click here to order this title on Amazon.com
Description from Transaction Publishers:
When his book Mainstream and Margins was published in 1983, Peter Rose's writings on American minorities and those who studied them painted a vivid picture of what life was like in America for Jews, Blacks, and other minorities in the United States. Now, a third of a century later, he revisits the topic, with sixteen new chapters, in addition to seven from the original edition.
Newer content covers immigration and American refugee policy; reexamines the term "model minority," first used to describe Jews, but now applied to Asian Americans; and the resurgence of nativism both in regard to new migrants from Latin America and to the growth of Islamophobia since the 9/11 attacks. Rose also reassesses what is still one of the most controversial documents about race and class ever written, Daniel Patrick Moynihan's "The Negro Family: A Case for National Action."
Rose writes about other authors who have addressed many of the principal concerns of this book, ranging from novelists Tom Wolfe and Harper Lee to sociologists David Riesman, Robin M. Williams, Jr., and William Julius Wilson. Historical tensions between Jews and African Americans and debates about "liberal" vs. "corporate" pluralism seen from the perspective of both whites and non-whites are also discussed in this seminal volume by a master on the subject.
Reviews of Mainstream and Margins Revisited

"Reading Peter Rose's new edition of Mainstream and Margins, 33 years after its initial publication, was, for me, as disorienting as it was edifying.  Edifying because few have ever commented so insightfully on America's complicated and variegated ethnic/racial heritage as Rose; disorienting because I cut my teeth on some of his earliest writings while a very green graduate student back in the early 1970s.  To rediscover his distinctive voice now, but this time speaking with as much authority and insight on contemporary issues as he did in the second half of the 20th century, is as wonderful as it is improbable."
—Doug McAdam, Ray Lyman Wilbur Professor of Sociology, Stanford University and former Director of the Center for Advanced Study in the Behavioral Sciences