Guest Appearances and Other Travels in Time and Space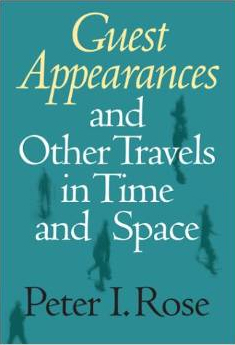 In Guest Appearances and Other Travels in Time and Space, "time" is the life course (at least up to the beginning of the 21st century) and "space" refers to the places the author has visited and written about.  The first part presages the first chapter of the memoir Postmonitions of a Peripatetic Professor (2013); the rest of the book focuses mostly on sites, scenes and unique experiences.
Published by:
Swallow Press (Ohio University Press)
215 Columbus Road, Suite 101
Athens, OH 45701-1373
740-593-1156
http://www.ohioswallow.com/
Pub date: April 30, 2003
232 pp, HC, $26.96, 7.1 x 9.1
ISBN 978-0804010528

Comments on Guest Appearances
Peter Rose has traveled more than almost anyone I know, and has seen a great deal that other travelers miss.  I think his essays are an accurate expression of the man — catholic in their interests and warmed by generosity.
–Tracy Kidder, Pulitzer Prize winning author of The Soul of the New Machine, Among School Children and Hometown.
An academic ethnography of significance — a life well lived, a cause well served.
–Richard Moran, professor of sociology, Mt. Holyoke College
If you weren't lucky enough to have Peter Rose personally introduce you to the discipline of sociology, now is your chance.  This intimate reflection will excite the mind — and the imagination.
–Ruth-Ellen Grimes, Smith '75, professor of sociology, California State Polytechnic University, Pomona